Currys is one of the UK's favourite retailers, they daily price check against other stores to ensure bargain prices. Great web exclusives can be found online too.
Get discounts using following codes - 10% off any Tall Fridge and Tall Freezer when bought together: TALLFF10%, 5% off any Undercounter Fridge and Undercounter Freezer when bought together: UNDCOUNT5% until 26th Nov, 15% off all camera bags: CAMBAG15 until 24th Nov, £20 off all iPads: IPAD20A, £20 off all android tablets £299 and over: ANDTAB20 until 27th Nov.
Currys and Currys.digital offer an extensive product range including digital vision, DVD, home theatre, audio, photographic technology, cooking, laundry, refrigeration, computing, communications and small domestic appliances. Gift vouchers can be used in over 500 stores across the UK.
Conditions
Please note: Cashback is paid on final transaction amount after all discounts have been applied including any post transactional discounts and will not be paid on any products that are listed as delivery, service and/or extended warranty. Discount codes are valid online only and cannot be used for collect at store transactions. Cashback will not be paid on iPhone 5, iPhone 5 S and iPhone 5 C.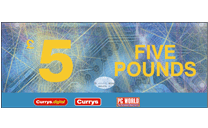 Conditions
These gift cards are sold under the DSG brand, meaning they can be used at Currys, Currys.digital, and PC World. Gift cards can be used in over 500 stores across the UK. For redemption terms and conditions and to find your nearest store visit www.currys.co.uk