Dorothy Perkins sells gorgeous fashion and accessories for sizes 8-22, find a tall range, maternity range, petite range all at affordable prices.
DP Fashion Week - 25% off all full price items online using code: DPFW25, excludes sale, Little Mistress and Paper Dolls, Free standard delivery when you spend £30 using code: DPFREEDEL until 16th March.
Dorothy Perkins is one of the biggest fashion retailers in the UK, with close to 600 UK stores. Wide range of collections including tall, petite, maternity, lingerie, shoes and accessories, in sizes 6 to 22. Earn 5% cashback on all your purchases when you shop using your black card.
Dorothy Perkins womens fashion retailer has over 600 stores across the UK. They cater for all shapes and sizes from 6 to 22, as well as a wide range of collections including Tall, Petite and Maternity; and ranges are updated weekly. These vouchers can also be used at Burton, Evans, Miss Selfridge, Outfit, Topshop, Topman and Wallis.
Conditions
Get the following cashback - New customers get 3% on sale items, Existing customers get 1% on sale items, 1.5% for both new and existing customers on non sale items.
5% Cashback by using our Black Card for your purchases
Shop in-store or online using your black card and earn 5% cashback on all your purchases. Please note: online purchases of Retail Vouchers and Gift Cards are excluded.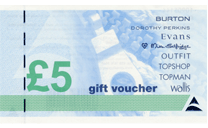 Conditions
These vouchers are only redeemable in stores and cannot be spent online. We endeavour to dispatch vouchers by post within three full working days (Mon-Fri). These vouchers are sold under the Arcadia brand, meaning they can be used at Burton, Dorothy Perkins, Evans, Miss Selfridge, Outfit, Topshop, Topman and Wallis.
Dorothy Perkins Voucher codes
25% Off all full price items - Online and in store.
Free standard delivery when you spend £30