Burton is a one-stop-shop for all men's dressing requirements. "Good clothing enhances a man's confidence and self respect", this being Burton's core motto, the company is dedicated in giving out its best quality clothes while it also keeps up with the modern innovations in cloth designing and material.
Burton's core aim is to provide quality services to its customers and provide luxurious shopping experience. Its products range from jackets, coats, jeans, jumpers, cardigans, casual shirts, suits, trousers, underwear, t-shirts, nightwear, sports and swim wears, a variety of shoes and a variety of accessories like belts, bags, wallets, jewellery, watches, ties, socks and many more.
All these products are sold in some of the best branded companies like Joystick Junkies, Kangol, Drift King, Unsung Hero and many others. Now avail Burton NHS discounts on all purchases made.
Burton is one of UK's largest menswear shops, with over 400 stores across the UK and Ireland. Huge range of clothing including jeans, shirts, suits, shoes and accessories. Earn 5% cashback on all your purchases when you shop using your black card.
Burton is one of the most successful mid-market menswear brands on the high street with more than 400 stores in the UK and Republic of Ireland. These vouchers are sold under the Arcadia brand, meaning they can be used at Burton, Dorothy Perkins, Evans, Miss Selfridge, Outfit, Topshop, Topman and Wallis.
5% Cashback by using our Black Card for your purchases
Shop in-store or online using your black card and earn 5% cashback on all your purchases. Please note: online purchases of Retail Vouchers and Gift Cards are excluded.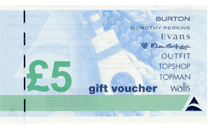 Conditions
These vouchers are only redeemable in stores and cannot be spent online. They can also be used in Dorothy Perkins, Evans, Miss Selfridge, Outfit, Topshop, Topman and Wallis stores. We endeavour to dispatch vouchers by post within three full working days (Mon-Fri).